Oil and Gas Giant Total to Buy Stake in SunPower
In a move that will see oil money financing solar installations, French oil and gas giant Total is all set to buy a 60% stake in solar PV panel maker SunPower on 14 June, in a deal valued at $1.4 billion, having received approval from the European Union yesterday.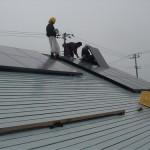 Total has had an active role in solar energy for nearly 30 years, but the move highlights solar's growing viability as an energy resource, and it now clears the way for Total to close its all-cash offer for a 60% controlling stake of SunPower's outstanding shares in the deal.
For its stake, Total will pay $23.25 a share for SunPower, no doubt making shareholders happy, as this is 45% more than what the shares were selling for on the open market.
Analysts say that Total's acquisition is a watershed event that validates the solar panel industry. While it remains unknown as to whether this combination will change the energy industry, for Total, aquiring a stake in SunPower is all about diversification of energy sources. Total will be able to leverage its government relationships around the world to get SunPower sweet deals.
For the Californian-based photovoltaic panel maker SunPower, the deal is a major step forward for a solar power company to join forces with a traditional fossil-fuel company that has access to the cash and credit needed to accelerate the deployment of solar panels around the globe.
Commenting on the deal, SunPower CEO Tom Werner told San Jose's Mercury News: "This is old energy betting on new energy. This is a bet for the future."
The news comes in the wake of SunPower having just set a new world record for solar cell efficiency.