Ofgem releases new Feed-in Tariff figures from 1st April 2016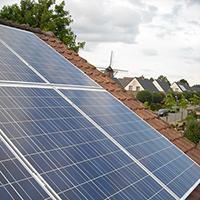 Ofgem have published the new rates for solar PV which will apply from 1st April until 30th June 2016.
A system under 10 kW has dropped from 4.39p/kWh to 4.32p/kWh and will continue to drop each quarter with digression.
The export tariff, which is paid for every kWh you export to the electricity grid, has now risen to 4.91 p/kWh (previously 4.85 p/kWh) in line with inflation.
The new Feed-in Tariff rates from 1st April until 30th June 2016
| Capacity | FiT Rate (p/kWh) |
| --- | --- |
| 0-10kW | 4.32 |
| 10-50kW | 4.53 |
| 50-250kW | 2.38 |
| 250kW-1000kW | 1.99 |
| >1MW | 0.74 |
| Stand alone | 0.74 |
You can find Ofgem's full Feed-in Tariff (FIT) Generation & Export Payment Rate Table
How to qualify for the Feed-in Tariff
In order to benefit from the Feed-in Tariff's payments, you must ensure your solar PV system is installed by an MCS accredited company.
 
One important thing to note is the introduction of a queuing system and deployment caps which could affect which tariff rate you receive. The government introduced these deployment caps at the start of 2016, in order to keep the expenditure of the Feed-in Tariff below £100m per year. Once the volume of domestic installations has hit the cap for a quarter, no more installations will be eligible to receive the tariff rate of that period. If this does happen, your application will be placed into a queue, and will receive the tariff rate of the next available quarter. This makes it even more important to submit your application at the earliest possible point to give you the best chance at receiving the current rate of 4.32p/kWh.