No Supreme Court Appeal for DECC Over FiTs
IMPORTANT notice about this article: Please note that the Feed-in Tariff (FiT) scheme closed to new applications on March 31st 2019.
It's the end of the road for the solar feed-in tariff battle now that the Supreme Court has denied the Government its right to appeal a decision to challenge a judgement made by the High Court regarding solar subsidies.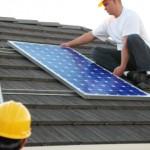 Late last year, government ministers moved ahead of an official consultation on the subject to cut feed-in tariffs (FiTs) by more than half from the 12th December. The decision was challenged by Friends of the Earth and two companies from the solar industry.
The High Court ruled that the government decision was legally flawed on the basis that it was not motivated by a proper consultation, without which the solar industry in Britain might face sudden decline. Government ministers were required to go through officially recognised channels and procedures to make such consequential changes.
After being denied permission to appeal the decision to the Supreme Court, the British Government has now promised to draw a line under the issue. Energy and Climate Change Secretary Ed Davey said: "We will now focus all our efforts on ensuring the future stability and cost-effectiveness of solar and other microgeneration technologies for the many, not the few".
One argument propounded by the government was that cutting feed-in tariffs from 43.3p/kWh to 21p/kWh would save the industry. Government ministers added that the cost of solar PV was decreasing, so it was only right that less money be spent on tariffs. It was further argued that the feed-in tariff was only affordable by the more affluent in society, leaving the poorest to subsidise the scheme through more costly energy bills.
The solar industry countered that the decision to suddenly halve FiTs could destroy one of Britain's few areas of economic growth. The decision was also regarded as injudicious by environmental commentators, many of whom argued that Prime Minister David Cameron was reneging on his promise to run the greenest ever government.
Jeremy Leggett, Chairman of SolarCentury, which challenged the decision to cut FiTs, said: "I hope the government is now clear that it will be held to account if it tries to act illegally and push through unlawful policy changes.
"We would much prefer not to have taken this path but ministers gave us no choice. Our hope now is that we can work together again to restore the thriving jobs-rich solar sector that has been so badly undermined by government actions".