New Trina Solar mounting system cuts installation time by half
Trina Solar's new solar PV mounting system, the Trinamount III, which the company claims halves installation time, has made its European debut at a Sheffield shopping centre.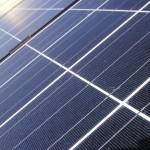 Sundog Energy are the company behind the installation of the new flat roof solar PV mounting system at the Crystal Peaks Shopping Centre. According to Trina Solar the reduction time has been made possible by reducing the number of parts and removing the need for traditional mounting rails.
The shopping centre's large roof space was ideal for solar photovoltaic panels. Trina Solar's new mounting system has been used to install 276 245Wp solar panels across three of the centre's flat roofs, while a single pitched roof has seen the installation of 129 250Wp panels which were fitted using traditional fixings.
Renewable energy consultants Syzygy Renewables engaged Sundog Energy to supply, design and install the PV system which is estimated will produce more than 80,000kWh annually. All of the shopping centre's communal areas electrical consumption needs will be met and any surplus power will be sold back to the National Grid.
Commenting on the installation Syzygy's director Neil Sinclair highlighted the benefits of using Trina Solar's new mounting system, not least that a reduced installation time meant a reduced installed price:
"It really was a win-win situation for everyone and we will certainly be looking to use Sundog and specify Trinamount III into several other projects we are looking at for other large commercial property owners," he said.
"The constantly changing market means that we are continually adopting innovative ways to reduce installation times and, therefore, costs for our customers and the installers," said  Martin Cotterell, founder and technical director at Sundog Energy. "We believe that this new system brings real benefits and will be quickly taken up by installers around the UK."
Hermes Real Estate Investment Management Ltd, who own Crystal Peaks, are dedicated to investing in sustainable technologies. The latest solar PV installation forms part of the company's on-going commitment to responsible investment across its portfolios.