New solar thermal modules for heating and hot water
Navitron has launched a new range of curtained solar thermal modules to provide both heating and hot water, which means customers will now be able to get the best of both worlds.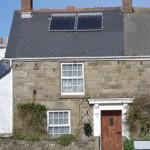 The company is excited about their new HFC module range, which the UK solar industry will get a first glimpse of when Navitron unveils its innovative new product at the Solar Power UK event which is being held in Birmingham next week.
According to Navitron customers commonly ask about installing a solar thermal system for both central heating purposes and to meet their domestic hot water needs. With 'over-spacing' an array potentially an issue – given the need to produce more heat during the winter months when the sun is at its weakest, which causes excess heat and stagnation during the summer which can be difficult to regulate – the company has up until now always advised customers against using solar thermal systems for both purposes. But it appears that thanks to this new range of solar hot water modules all that is about to change.
The modules utilise the company's highly efficient evacuated tube technology which has proven to be highly efficient, coupled with parabolic mirrors behind which are placed into a glass fronted box to help the panels look more aesthetically pleasing. The panels feature a remote controlled blind and thanks to this patented design the consumer is able to have total control over when the panels are activated and eliminates the former issues of stagnation, therefore making it possible to use solar to heat central heating systems in a regulated way.
Based in Oakham in Leicestershire, Navitron began trading in 2004 and supplies all types of renewable energy technologies including solar PV panels, heat pumps, wind turbines and evacuated tube solar collectors.
Navitron will be appearing at Solar Power UK, NEC Birmingham from 2-4 October. Pop along to stand D15 to find out more about the HFC solar thermal range.