New Green Party leader has faith in solar energy
Former Guardian journalist Natalie Bennett has been appointed as leader of the Green Party in England and Wales, replacing Caroline Lucas.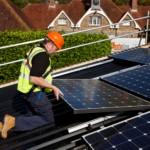 Bennett – who calls the Government's proposals to amend the subsidy regime for solar and wind energy "a total mess" – believes solar power particularly has a pivotal part to play in the country's energy mix, saying it has "huge potential in the UK".
The Australian born journalist secured a significant victory at the polling station and beat three other candidates to take the leadership role, which became available after Lucas made it clear she wouldn't be seeking re-election when her second term comes to an end.
Writing in the Guardian, Bennett said radical changes are needed and the Green Party has the vision needed to enforce those changes and "make Britain a leader in renewable energy".
As part of her acceptance speech Bennett said: "We need investment in homes, investment in jobs, investment in energy conservation, renewable energy and public transport."
"There's no sign of a Government U-turn towards the investment that we urgently need to create jobs and provide the homes, public transport and sustainable energy infrastructure necessary to meet community needs and build a Britain fit for the low carbon future," she added.
Bennett has already set her party the task of meeting some pretty ambitious targets – not least six MEPs by 2014 and a Green councillor in every area by 2020.
Talking about the departure of Caroline Lucas, Bennett said: "Caroline as our first MP will remain a huge national figure, and I look forward to working with her and learning from her experience."