Win Solar Panels Worth £16K With the Guardian and PV Solar UK
For many, the idea of generating clean, green energy is very appealing, but the cost continues to put many people off installing renewable energy technologies.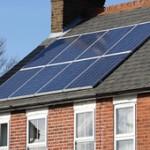 However, with £16,000 worth of solar panels up for grabs – thanks to the Guardian and PV Solar UK – that could all be about to change for one lucky person.
To celebrate two years of environmentguardian.co.uk, the Guardian is giving one reader the chance to win a 4 kilowatt solar photovoltaic system for their home.
A solar PV systems can be installed on the roof of most homes – as long as they are capable of supporting the equipment – and panels can be attached to flat or pitched roofs or, alternatively, can be fixed vertically onto external walls or located on the ground.
Not all properties are suitable for solar panels, but generally your roof or wall will need to be south facing for your solar panels to be most effective, and the area shouldn't be shaded by trees or other buildings.
As energy prices continue to rise, more and more people are looking to renewable energy technologies such as solar PV to fight escalating energy costs. By installing solar panels, not only will you be able to make savings on your fuel bills, but Government schemes like the feed-in tariff (Fit) offer financial incentives to people who generate their own electricity.
For more information and to enter the competition, click here. Only UK residents who are aged 18 and above are eligible to take part, and the closing date for the competition is 14 September 2011.