Never been a better time to invest in solar says Barker
Following his visit to British solar photovoltaic panel manufacturer Romag's headquarters earlier in the week, energy and climate minister Greg Barker tweeted his support for the UK solar industry, saying there had never been a better time to invest in solar energy.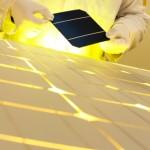 Barker dropped by the manufacturing facility and was given a guided tour of the head office and factory which is based in Consett, County Durham, in the North East of England. Romag currently employs around 150 people and the minister spent time talking to employees and the firm's directors about the pivotal part solar has to play in the country's energy mix.
During his visit Barker spoke about the falling cost of solar modules and the impact it would have on the number of households being able to install solar panels to lower their energy bills. The energy and climate change minister expressed his commitment to renewable energy, saying he very much believes both fossil fuels and clean green methods are essential to future energy production in the UK.
"Solar PV has an exciting future in the UK, one where government and industry work together to ensure this vital green technology continues to make a real difference in supplying our homes and businesses with clean green power," commented Barker.
He added that Romag was one of a number of innovative and successful green companies in the North East who were leading the way forward with a thriving manufacturing facility and high skilled staff. In a tweet to his 9,500 plus followers Barker said he was "hugely impressed by amazing innovation & new BIPV products coming through at Romag County D'ham".
The company supplied the solar panels for Worthy Farm in Glastonbury, which is owned by Glastonbury Festival pioneer Michael Eavis. Romag was the first company to receive a licence under the Microgeneration Kitemark scheme and markets a range of products including MCS accredited solar PV panels and building integrated PV solutions.