Impressive solar array unveiled at Yorkshire showground
The Great Yorkshire Show has just unveiled its solar showpiece, one of the largest solar PV arrays in the region at 245 kWp, installed at its headquarters in Harrogate.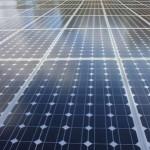 Local installer Duncan Renewables fitted almost 1,000 Suntech modules on over 1,600 m² of roof space at the showground with the process taking less than a month. The array will provide an estimated 203,473 kWh of clean energy with a predicted annual income of £15,000 per year in Feed-in Tariff payments which will be paid to the Yorkshire Agricultural Society.
The array is one of the largest roof-mounted solar PV installations in the UK to date and help the show to cut its carbon emissions as well as saving on energy bills.
"Operating in a sustainable way is very important to us" said Nigel Pulling, the Chief Executive of the Yorkshire Agricultural Society. "Being a year round exhibition centre we have a significant electricity requirement and installing solar panels was an obvious step we could take to reduce both our costs and our carbon footprint. The scale of the project was somewhat daunting but Duncan Renewables has done a first class job in managing the installation from the initial planning permission application right through to registering the system with OFGEM."
Mr Pulling said that the number of events held at the showground meant that there was only a narrow timeframe within which to complete the project but that Duncan Renewables had worked hard to ensure that the array was installed and operational in time for the Great Yorkshire Show. "We are delighted with the end result and look forward to enjoying the benefits over the next 25 years" he added.
Duncan Renewables is an offshoot of Duncan Plumbing, Heating & Electrics Ltd and has been involved in solar PV projects for over 15 years. The company is also involved in biomass projects and caters for both the domestic and commercial markets.