Ikea Announce Home Solar Battery Storage Solution
April 2019 Announcement: Ikea / Solarcentury have placed their UK solar panel offering under review until further notice.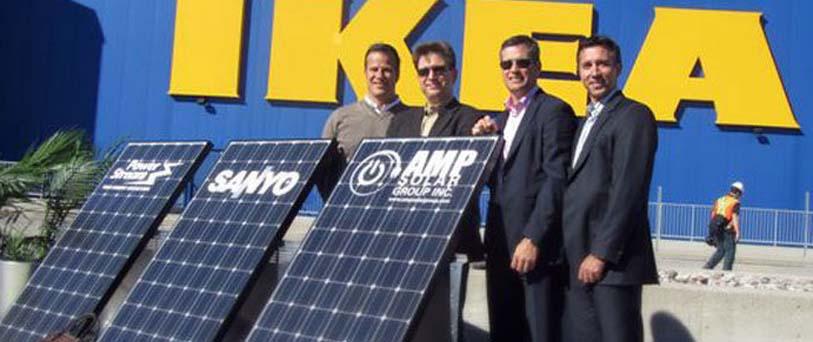 Swedish furniture retailer, Ikea, are launching an affordable Solar Battery Storage solution for UK homes. They have announced a partnership with renewable energy company, Solarcentury, and have produced a domestic system which combines solar panels with a storage battery.
Get quotes to supply and fit a solar battery system in your home
The announcement coincides with the launch of the UK government's £246m investment in the research and development of battery technology. Around 700,000 homes in the UK currently have solar panels in order to generate their own energy and reduce their dependence on the National Grid.
However, the average household only uses around 40% of the energy produced by the solar panels. Ikea claim that their storage system will enable the same households to double this figure to as much as 80% with as little as 20% surplus energy being returned to the grid. This could result, they also claim, in up to a 70% reduction in energy bills.
Homeowners can purchase the battery for a price of £3,000 or higher with this figure rising to £6,295 if included as part of a solar panel installation. However, Ikea also states that as much as £560 could be recouped annually by installing the Solar Storage Solution and increasing renewable energy usage to 80%.
Country Sustainability Manager for Ikea in the UK & Ireland, Hege Saebjornsen, said; "At Ikea, we're always looking for ways to help customers take positive actions at home for both the environment and their wallets.
"We know that our customers want to live more sustainably and together with Solarcentury we will help them to get more value from their solar panels and do just that. With energy bills already going up 15% this year, there's never been a better time for customers to take back control of their electricity bills and maximise their savings by switching to solar and solar storage."
Ikea has been selling solar panels in the UK since April 2016 but through this new partnership with Solarcentury they have taken another step towards making solar a more viable, affordable option for homeowners.
Susannah Wood, Head of Residential Solar at Solarcentury, said: "We're committed to helping homeowners reap the benefits of going solar and our business partnership with Ikea is a significant step forwards for the renewable energy industry.
"The cost of solar installations has dropped considerably in recent years and is in fact 100 times cheaper than it was 35 years ago. We believe Ikea and Solarcentury are bringing the most competitive package to the market yet so more people than ever before can profit financially and environmentally by producing their own energy."