Solar doing what it says on the tin research reveals
Research conducted by Sheffield University's physics department has revealed that a whopping 98% of solar photovoltaic panels presently installed in the UK are performing well.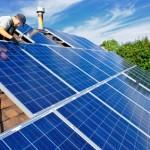 Over the past two years researchers from the university's Sheffield Solar Farm project have been collating and analysing data to determine the performance of more than 2,000 UK solar PV systems.
Dr Alistair Buckley, who is the university lecturer overseeing the project, said he was surprised by the results which indicated that the majority of the PV systems in place were operating "to spec" and most of the time did what they were claimed to be capable of doing.
"About 2% of systems we have data for are clearly under-performing, all the rest fall within a broad distribution with the obvious factors such as local climate and roof orientation controlling the energy yield," commented Dr Buckley.
"We would have expected more systems to be under-performing – but it seems that the UK weather, with its lack of direct sunshine, actually makes installations less sensitive to orientation than might be expected," he added.
The Sheffield Solar Farm project, part of a larger solar power project known as Project Sunshine, focuses on reporting about solar generation alongside real world testing of solar photovoltaics. Data was collected for the project via the website which enabled homeowners with solar PV panels to upload data relating to the performance of their installed systems.