Glastonbury Festival founder jumps on solar Feed-in Tariff opportunity
Sunshine isn't synonymous with the Glastonbury Festival, but that hasn't stopped the founder of the most reputable outdoor music festival in the UK from investing in the largest privately owned solar panel farm in the country.
Michael Ea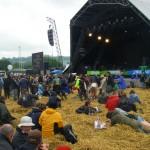 vis, who hosts the 40th music festival at his Worthy Farm this week, has reportedly spent over half a million on an array of panels and becomes the first person to take advantage of the Government's new Clean Energy Cash Back scheme, also known as the Feed-in Tariff (FiT).
The festival founder has had 1,100 panels installed covering 1,500 square metres and costing £550,000. The solar panels have been installed on the roof of Eavis' 'Mootel' – the barn the man Time Magazine named in its 100 most influential people in the world keeps his cows during the festival week. The panels will collectively generate 200 kilowatts of electricity - enough to power 40 homes – earning Eavis around £45,000 a year through the feed-in tariff.
Eavis told The Times last week: "I've been planning this for a long time but the Gulf of Mexico oil spill has brought home just how urgent it is that we move to renewable electricity.
"We have already bought all the recycled fat from chip shops that we can find to run the generators during the festival and we wanted to create a permanent source of renewable energy. It makes sense to use some of the massive amounts of free energy that comes from the Sun."
Eavis told The Times that he'd planned to have the panels installed long before the tariff was announced but admitted it has made the idea even more financially attractive, especially for landowners such as him.
The FiT was introduced back in April as an incentive for homeowners to go green. Those who have solar PV panels or other forms of renewable electricity technology installed receive a fixed payment for the electricity they generate and another payment for unused electricity they sell back to the National Grid.
With the Government scheme guaranteed for the next 25 years, Eavis will pay off the £550,000 installation costs within six years and reap the profits from then on.
"We will benefit from this," he added. "But when it starts generating a profit, I will spend all that money on more solar energy, so it will be a good investment for the nation."
Eavis specially designed the roof of the barn to be south-facing to guarantee the panels are subject to maximum sunlight and has since added reinforced girders to take the weight of the 22.5 tonnes of panels - the biggest array of panels to be mounted on a single roof in the UK.
Construction of the solar panel farm begins in August and Eavis has already seeked permission to add a smaller version to another building roof.