Get £600 to install solar thermal with the RHPP
Keen to actively encourage renewed interest and uptake of renewable heating products like solar water heating, the Government has announced an increase in the value of vouchers to help homeowners meet the costs of paying to have the technology installed in their homes.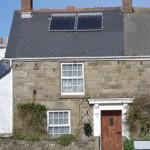 As the forerunner to the Renewable Heat Incentive, the Renewable Heat Premium Payment (RHPP) scheme was first launched in July 2011 and extended for 12 months from March 2013. It provides money off vouchers for heat pumps, solar thermal panels and biomass boilers.
Householders living off the gas grid have the opportunity to cut their heating bills and carbon emissions if they switch their heating methods from traditional systems to renewable heating. Already more than 10,000 householders have taken advantage of the RHPP and under the new level of support to be made available, solar thermal is eligible for a £600 grant – previously it was just £300.
But it's not just voucher values that have changed. Homeowners applying for the new vouchers are now required to organise a Green Deal assessment prior to submitting a claim with the Energy Saving Trust.
Commenting on the increase in funding, Energy and Climate Minister Greg Barker said in a press release yesterday that the Government wanted to give hardworking people more of an opportunity to switch to green heating to save money.