Future still bright for solar despite subsidy cuts
On Wednesday fresh cuts to the feed-in tariff were introduced with solar PV subsidies falling from 21p/kWh to just 16p, meaning anyone installing the technology will get paid less to produce their own green electricity.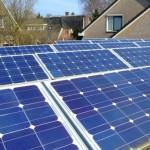 However, the news is not all doom and gloom. The solar industry remains upbeat for the future of solar energy in the UK. And quite rightly so. Despite enduring yet more cuts – not to mention a reduction in the lifespan of the feed-in tariff scheme, which has been reduced from 25 years down to 20 to bring it in line with other renewable technologies – solar continues to provide solid and attractive returns compared to returns you can get in banks.
In addition to these reductions a 3.5% decrease in the tariff rate will be introduced every three months as part of the new tariff structure, depending on installation levels.
While the Solar Trade Association has been urging homeowners to maintain their faith in solar PV, saying solar still remains viable despite the 1 August cuts, other industry figures have since spoken out in support. Andrew Lee, general manager for Sharp Solar said the reductions in subsidy rates are more or less being matched by falling solar panel costs. He added:
"We welcome Government's decision to work towards creating a more stable FiT for the solar industry. The 16p rate still offers opportunities for both investors and homeowners to take advantage of a cost-effective form of renewable energy while bringing much needed certainty and stability to the market.
"This is a chance for the industry as a whole to turn a corner and work towards driving growth in the UK."
Like many in the industry, Mr Lee believes solar subsidies could very well become a thing of the past as the price drop would be on a par with fossil fuel generation.
Founder of Green Tomato Energy Tom Pakenham said: "Any reduction in solar installations caused by tariff cuts is short sighted because the return on investment is still excellent, with greater than 5% achievable even after the 1 August reduction.
"People are unnecessarily becoming disenchanted with solar power because there has been so much uncertainty. In reality it can still be a very good deal."
If the property doesn't meet the energy efficiency requirement of an EPC band D then a lower rate of 7.1p/kWh will apply.