DECC confirms solar FiTs to fall to 16p from 1 August
The Department of Energy and Climate Change (DECC) yesterday confirmed the rumours that have been surrounding a reduction to the solar feed-in tariff to announce that from 1 August FiTs will fall to from 21p/kWh to 16p/kWh.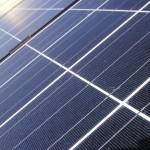 The UK solar industry has had to endure a fair old amount of uncertainty already this year. By implementing these changes to put the solar subsidy scheme on a more sustainable footing it should help to restore and encourage continued faith in solar as a renewable energy.
Aside from the cuts which take the FiT payment rate down to 16p/kWh, other changes will also come in force from the 1 August. They include:
An increase in the export tariff which is being raised from 3.2p/kWh to 4.5p/kWh.
The lifetime of the scheme is to be reduced to 20 years, down from 25 years.
A gradual reduction in the feed-in tariff rates is also to be introduced, which will come into effect every three months. Depending on the number of solar PV installations that have taken place during the preceding quarter, DECC will either freeze or reduce tariffs.
Commenting on the changes, Energy and Climate Change Minister Greg Barker said that this was an exciting new chapter for the solar industry and that despite enduring difficulties the newly introduced reforms would enable growth within the industry:
"We can now look with confidence to a future for solar which will see it go from a small cottage industry, anticipated under the previous scheme, to playing a significant part in Britain's clean energy economy.
"I want to send a very clear message… UK solar continues to be an attractive proposition for many consumers considering microgeneration technologies and that having placed the subsidy support for this technology on a long-term, sustainable footing, industry can plan for growth with confidence."
According to DECC despite the reductions consumers should still be able to achieve a return on investment (ROIs) of over 6% for a typical, well-sited installation.