Figures Show Incredible Amount of Solar Uptake
As reported last week, a Government website which allows installers to register solar PV systems for the feed-in tariff (FiT) crashed, as contractors rushed to get systems installed.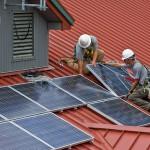 Although it comes as no surprise that installers have had to rush to beat the 12 December solar subsidies deadline, newly release figures from the Department of Energy and Climate Change (DECC) have revealed an incredible level of solar uptake.
According to DECC, in the week ending 4 December, more than 83MW was added to the Microgeneration Certificate Scheme data, equating to more than 21,000 installations. Specifically, 21,018 small-scale solar PV installations were carried out in that week, compared to previous weekly figures which saw 16,565 installations.
Highlighting the popularity of solar as a renewable form of energy, since the start of the year, more than 611MW of installations have taken place.
Data published by Ofgem, however, seem to have painted a somewhat different story, with their shockingly stale figures claiming just 24.874MW for the same weekly period, with 381.477MW for the year.