Feed-in Tariff Ends in 2019
Important notice about this article: Please note that the Feed-in Tariff (FiT) scheme closed to new applications on March 31st 2019. As of 1st January 2020 solar panel owners can apply to the Smart Export Guarantee scheme to receive payments for solar energy exported to the National Grid.
Click here for more information.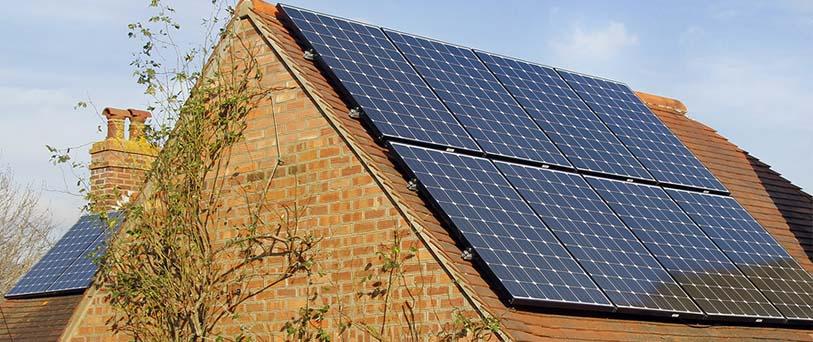 What is the FiT scheme?
The FiT rate is a government scheme which pays homeowners and businesses who generate their own electricity through renewable technologies such as solar PV and wind power. The scheme was first introduced in 2010 when the cost of solar PV installation was much higher; it was intended to encourage us to invest in the technology and reduce the UK's reliance on fossil fuels.
There are 3 ways solar PV owners can benefit from the FiT scheme:
Generation Tariff: This tariff pays you for every kWh of energy your solar PV generates which is tracked by a generation meter.
Export Tariff: This tariff buys the energy your system generates but you don't use; this surplus is automatically sent to the National Grid. Most homes do not have an export meter so most suppliers will estimate you've exported 50% of your generated energy and pay you based on that figure.
Energy Bill Savings: By generating and using your own free energy, you will need to buy less from your supplier saving you money on your energy bills.
---
Get Free Solar Panel Quotes:        Get quotes and compare prices.
---
Why is the FiT scheme ending?
At the start of the scheme the government estimated that around 750,000 eligible solar PV installations would take place by 2020.
In reality, the scheme was much more effective than anticipated with 730,000 installations by 2015. This obviously placed strain on the scheme's budget and, in addition, the scheme has had to deal with funding cuts of around 65% as the cost of installing solar PV has fallen drastically. All of these factors combined have brought the closure of the FiT scheme forward. On 19th July 2018 the government confirmed that the FiT scheme will be closing it doors on 31st March 2019.
We recommend that you get your application in as early as possible to secure your place in the scheme. The first step is to find an MCS certified (or equivalent) solar PV company to install an eligible system.
You can do this right now by completing our form; you'll receive up to 3 FREE, no-obligation quotes for a solar PV system from approved installers near you. Get free solar PV quotes now.
What Could You Earn with the FiT Scheme?
The FiT rate is adjusted each quarter. In addition, there are 3 levels of FiT payment; the level you receive will depend on the size and type of installation you have and whether or not the property meets the Energy Efficiency Requirement*.
Higher Rate: Applies to single installations where the Energy Efficiency Requirement is met.
Middle Rate: A multi-installation tariff which applies when the recipient already receives FIT payments from 25 or more other eligible solar PV installations and the Energy Efficiency Requirement is met.
Lower Rate: Applies when the Energy Efficiency Requirement is not met.
*The Energy Efficiency Requirement applies to PV installations installed on or after 1 April 2012. Installations which can provide a valid Energy Performance Certificate (EPC) at the time of application for the Feed in Tariff scheme, showing a rating of level D, are eligible for the highest rate.
Most domestic installations have capacities of 4kW or below and qualify for the 'higher' rate generation tariff. The generation FiT for these installations is 3.93p/kWh and the export tariff is 5.24p/kWh (for applications accepted before 1st September 2018). Calculate how much you could earn through the FiT scheme with our Feed-in Tariff Calculator.
Don't miss your chance to earn money with FiT payments! Get FREE solar PV quotes from accredited installers in your area now.
FiT payments are made on a quarterly basis and the tariff rate is fixed for 20 years from your eligibility date. That means that even when the FiT scheme ends, you'll continue to receive the same payments for 20 years. These payments aren't made by the government but your energy supplier.
When Exactly is the FiT Rate Ending?
The FiT rate will close from April 1st 2019; any applications received after 31st March 2019 will not be eligible. Currently the government has not announced that there will be another incentive scheme to replace it.
What Does This Mean for You?
Those who already receive the FiT rate don't need to worry. Your payments will continue until your solar PV system is 20 (or 25 in some cases) years old.
However, if you haven't yet got solar PV for your home and are interested in cheaper energy bills, reduced carbon emissions AND earning money through FiT payments, we recommend that you get quotes as soon as possible.
Although the closure date of 31st March 2019 may not sound urgent, it's important to remember that submitting an application on time is not a guarantee of being successful. This is because there is a limit to the amount of applications which can be accepted in each quarter known as the deployment cap. Once the cap is reached, even eligible applications which are submitted on time may not be accepted.
So the earlier you can get your solar PV system installed and FiT application submitted, the more chance there is your application will be successful and you'll secure your payments for the next 20 years.
Don't miss out! Get FREE solar PV quotes from accredited installers in your area now.
---
Get Free Solar Panel Quotes:        Get quotes and compare prices.
---
Further Reading
How Does the Feed-in Tariff Work?
How do I apply for a Feed-In Tariff?
What is the future of the Feed-in Tariff?