October 2016 Feed-in Tariff announced at 4.18p/kWh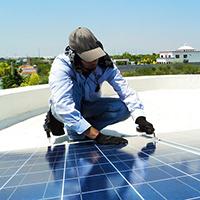 Ofgem has released the new Feed-in Tariff rates that will be in effect between 1 October and 31 December 2016. The generation tariff now sits at 4.18p/kWh (previously 4.25p/kWh) in line with the expected quarterly degression. The export tariff remains the same at 4.91p/kWh.
Feed-in Tariff rates from 1 October until 31 December 2016
| Capacity | FiT Rate (p/kWh) |
| --- | --- |
| 0-10kW | 4.18 |
| 10-50kW | 4.39 |
| 50-250kW | 2.03 |
| 250kW-1000kW | 1.69 |
| >1MW | 0.57 |
| Stand alone | 0.51 |
You can find a full list of rates in the official Ofgem Feed-in Tariff (FIT) generation & export payment rate table.
This quarter brings with it higher than anticipated deployment bands. This is due to unused capacity from the previous quarter being carried over, meaning more people will be able to benefit from this FiT rate and not be placed in a queue which could see them pushed into the next quarter's rates.
The government introduced the deployment caps earlier this year, however the amount of installations carried out have not been reaching the proposed cap. This is especially clear in the 0-10kW band which includes most domestic installations. Only around 24% of the capacity was reached for this band, meaning that the quarter beginning October 1 2016 will have a cap level 150% higher than anticipated.