Engensa to launch new SolarLoan scheme
With rent-a-roof schemes having become something of a victim of solar subsidy cuts, one of the UK's leading home energy companies is to launch a new scheme designed to help homeowners fund the cost of solar PV.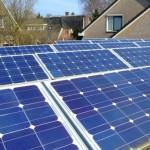 SolarLoan will allow homeowners to have solar panels installed at no upfront cost to themselves and unlike free solar schemes they will be able to earn money from the feed-in tariff (FiT) scheme. That's the premise behind Engensa's SolarLoan scheme which will be available to residents who live south of Birmingham next month, before being launched to the rest of the UK from October.
Aside from generating an income through FiTs once the system has been paid for, homeowners will also benefit from a reduction in their energy bills. They will have the option of paying for the full cost of the system upfront or by by making monthly instalments over an agreed time scale.
Toby Darbyshire, Engensa's Chief Executive Officer described SolarLoan as the "next big step in UK solar".
"We are thrilled to offer a finance product that can benefit millions of UK homes, drive mass adoption of renewables, invigorate the solar industry and create jobs," he said, adding. "SolarLoan financing underscores our commitment to innovation in both solar technology and business, to make solar energy easy and attainable for homeowners, independent of changing government policies."
Once the cost of the system has been paid off in full, according to the company's estimations, a well-cited south-facing 4kW solar PV system could save the homeowner £1,500 a year. This would eventually rise to £2,200 in year 25. Over the 25 year period, the installation could generate a return of up to £30,000.
SolarLoan is the first dedicated loan of its kind and Engensa believes it has the potential to drive mass adoption and breathe new life into the UK solar industry.