8 out of 10 people switch to solar to save money
According to research from uSwitch.com eight out of ten people install solar panels as a means of cutting their household energy bills.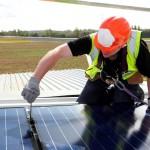 The price comparison website has revealed that households who switch to generating their own electricity by investing in a solar PV system are able to make immediate savings on their annual fuel bills. So it's no wonder more and more people view solar energy as the most viable way to tackle rising fuel costs.
For consumers who have already had solar panels installed, they are making an average monthly saving of £82.50 a month – that's almost £1,000 off their annual energy bills according to the uSwitch.com research.
"With soaring energy prices and the rising cost of living, households are looking for new ways to cut costs. Solar energy provides a real opportunity to save around £80 a month on energy – something that consumers can't afford to ignore," commented uSwitch.com energy efficiency expert Kevin Sears.
"With over half of households under the impression that solar power is too expensive, consumers should be aware of all the options available, including Engensa's new SolarLoan," he added.
Scottish households seem really clued up on the benefits of renewable energy which are currently providing around 35% of Scotland's electricity needs, reports the Scotsman. Take Simon Nicholas Wright for example. The photographer who lives in Edinburgh had solar panels installed two years ago and he's been reaping the benefits ever since:
"This year we turned the water off in March and it won't go back on until October November. Even with the weather we have been having the solar panels are still generating enough to fill the hot water tank for baths, showers and washing up."
The survey also revealed that nine out of ten people who have solar panels would recommend the technology to a friend, while eight out of ten have switched to solar electricity to save money and six out of ten people installed solar to become more green. Surprisingly just four out of ten people polled said they had solar panels fitted on their home because they viewed it as representing a good return on investment.