Product Spotlight: Puredrive Purestorage II Solar Battery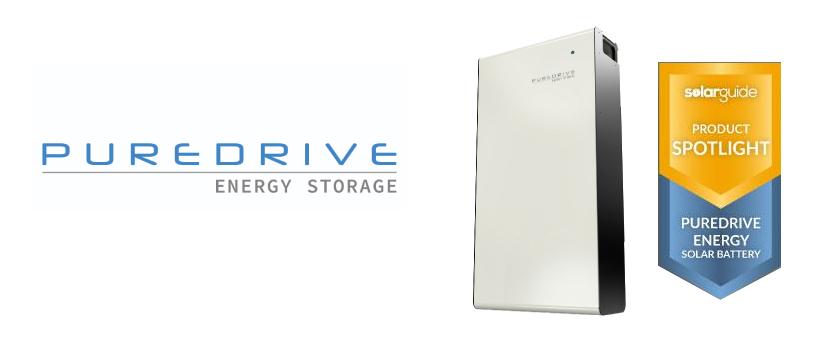 Puredrive Energy have unveiled their latest range of solar battery products, the Purestorage II.
Adding the Purestorage II solar battery your solar system will reduce the reliance you have on your energy supplier and help to save you even more on your energy bills.
Puredrive's Purestorage II battery has been approved by Solis, Victron and Imeon and has significant advantages over other batteries.
Introducing Puredrive Energy
When it comes to solar storage technology, Puredrive Energy is one of the leading names in the industry. They use their 10 years of experience to design, develop and build the very latest in innovative energy storage systems and distribute them out to customers in the UK and abroad.
With a Puredrive Energy system, consumers can increase their renewable energy consumption from 30% to 85%.
Puredrive Purestorage II
Puredrive Energy's latest energy storage system is a Hybrid Battery which has the ability to allow anyone generating their own solar energy to get the most out of their solar PV system.
Let's take a look at the key specifications that add up to make the Puredrive Hybrid Battery the best on the market.
Puredrive Purestorage II DC Connected Hybrid Battery
Capacity
5 kWh
Cycles
10,000
Technology
Lithium Ion Phosphate (LiFePO4)
Operating Temperature
-20°C to 60°C
Power Cut Backup
Automatic within 20ms (lights won't flicker)
Dimensions (WxHxD)
386.40 x 737 x 171.80mm
Weight
75kg
Mounting
Floor / Wall
What is a solar battery?
A solar battery stores any excess solar energy generated during the day so that it can be used after daylight hours. Having a solar battery will help to reduce the reliance you have on your energy supplier even further.
What is a solar inverter?
A solar inverter converts the energy generated by solar panels from a direct current (DC) to an alternating current (AC). Without an inverter, the solar energy would go to waste as the electrical appliances around your home need an AC supply.
What is a hybrid inverter?
While solar batteries and solar inverters are often thought of as separate parts of a solar system, hybrid inverters are a normal inverter combined with a battery.
Having an inverter with an integrated battery comes with the major benefit of being able to use the generated solar energy in the most efficient way possible.
Advantages of the Puredrive Purestorage II Hybrid Battery
There are some significant advantages to adding a Puredrive Hybrid to your solar system, including:
Weatherproof
If you want to keep the battery outside then you can be confident that it's protected in all weathers.
Superior operating temperature range
The ability to operate in temperatures as low as -10°C and as high as 50°C, means that you won't have to worry about the performance of your battery during periods of extreme cold or hot temperature.
One simple and robust enclosure
A robust enclosure surrounding the hybrid battery keeps it well protected from the elements and even theft.
No exposed cabling and switching
This is great news for busy households and will help to keep things clean and tidy.
Fast and simple install
When comparing solar batteries, you'll need to weigh up the installation costs as well as the price of the battery itself. Fortunately, the Puredrive Hybrid Battery has been designed in such a way that it can be installed quickly, keeping installation costs to a minimum.
1C rating
C-ratings show how quickly a battery can discharge the stored energy. A 1C rating means that the Puredrive Hybrid Battery can charge and discharge at the rate of the size of the battery without losing capacity. For example the 4.8kWh can charge and discharge at 4.8kW and still retain the full 4.8kWh capacity of the battery. This is a big advantage of the Puredrive Battery.
Backup power
The Puredrive battery, when connected to a Hybrid inverter, has the ability to seamlessly keep your power on in the event of a power cut.
How long is the warranty period?
The Puredrive Hybrid battery is covered by an extensive warranty period of 10 years or 10,000 cycles. A cycle is the number of times the battery can be fully charged before the original capacity begins to fall.
10 years is a considerable amount of time, which will see that you're well covered long after the installation.
How much does the Puredrive Hybrid Battery cost?
Available for £1,555, this makes the Purestorage II Hybrid one of the most affordable batteries on the market. So not only will it help to save you money on your energy, you could be saving money on the initial costs too.
---
Get Free Solar Battery Quotes:        Get quotes and compare prices.
---