Dubai Has 'Big' Plans For Solar
As one of the highest per capita electricity consumers in the world, Dubai is turning to renewable energy sources to help alleviate reliance on importing energy to meet the needs of its energy hungry 2 million inhabitants.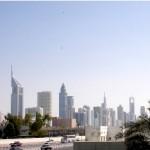 Given its hot arid climate, key to Dubai's energy strategy is solar energy, and the Middle East emirate has just unveiled plans for what it describes as "a very big" solar farm.
In line with Dubai's Integrated Energy Strategy 2030, the country has set a target of reducing energy imports and carbon dioxide emissions by 30%; targets that will be met using its own solar power and by importing nuclear power from neighboring Abu Dhabi.
A press conference was held yesterday to make the announcement, where Saeed Mohammed al-Tayer, vice chairman of Dubai's Supreme Council of Energy, revealed plans to generate 5% of its electricity from renewable energy, with solar set to be the predominant source.
"Soon we will have a very big (solar) project in Dubai we are trying to find a date to announce it. We have identified the place," Tayer said, refusing to be drawn on the scale of the proposed project and how much it would cost.
Over the next two decades, Dubai wants to diversify its energy mix. Whilst gas will still account for 71%, 5% of its electricity will be generated from solar, with imported nuclear energy and coal each accounting for 12%.