Devon revealed as the solar capital of the UK
With a very respectable one in 12 homes generating their own renewable electricity thanks to solar panels, Devon has been revealed as the solar capital of the UK, while London is lagging a long way behind with the least number of installations.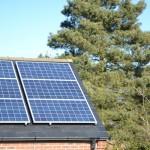 Yes, we've got to hand it to Devon. Famed for its clotted cream, unspoilt beaches, mild climate and cider, the county certainly seems to love solar energy.
The WSP Group, which specialises in construction and property engineering and management consultancy, has compiled a local authorities league table to highlight which parts of the UK are outshining the rest when it comes to solar energy generation. Mid Devon has taken the coveted top spot with the most number of homes having a solar PV system installed. The renewable energy technology was also revealed to be popular amongst domestic households in Wrexham in Wales.
It's a different story for London, however. Just one in every 2,500 properties in Westminster has a solar PV installation. The City of London and Tower Hamlets aren't fairing much better, with data revealing there to be just one solar installation for every 1,250 homes.
Thanks to its milder climate and sunny spells it's not at all surprising that solar is proving so popular in the country's South West. There are, however, a few surprises. Take Dumfries & Galloway. A part of Britain not known for high levels of sunshine, it hasn't stopped solar from proving popular in this part of Scotland, with around one in every 40 households enjoying the benefits of solar panels.
The figures have also revealed another surprise. Contrary to popular opinion, it's not necessarily the most affluent areas rushing to embrace solar power. While some of the wealthiest London boroughs are languishing at the bottom of the league table, Dumfries & Galloway – which has a pretty low income per-capita – still managed to achieve 55th place out of 760 local authorities.
According to Government statistics published last month, since the launch of the popular solar feed-in tariff scheme in April 2010, 362,000 UK properties have had solar PV panels installed. In other words, that's around one home in every seventy.