Dé·jà vu Down Under as solar industry hits back against cuts
This time last year the UK solar industry was up in arms about Government proposals to enforce massive cuts to solar subsidies. Fast forward almost 12 months and the Australian solar industry is facing a very similar situation.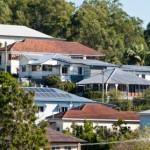 December 2011 was all about Government imposed solar cuts and the impact it was having on a blossoming British solar industry. Whilst we have had to endure drastic reductions to our feed-in tariff and cuts to solar subsidies by more than 50% – which instigated a fierce campaign that saw industry groups lobby Parliament and a court battle which to this day still hasn't been fully resolved – solar panel installers Down Under are also facing similar drastic cuts to solar rebate incentive schemes. And the Australian solar industry isn't taking it lying down, either.
Yes, it seems wherever you are in the world solar subsidy schemes start off on a positive note but eventually end up enduring a bit of a raw deal. Last month (16 Nov) it was announced that the Australian Federal Government is planning to completely phase out the Solar Credits subsidy scheme prematurely, which will see subsidies cut by 50% some 6 months earlier from 1 January 2013. News of the early subsidy cut has triggered a rush on system installations, creating another dramatic boom and bust cycle.
Applicable for small-scale solar PV systems and other small-scale renewable energy systems, solar credits are tradable certificates known as small-scale technology certificates (STCs). Australian solar PV installers will either offer a discount on the price of an installation, or a cash payment, in return for the right to create the STCs.
As reported by Energy Matters, it's the second time the Government have intervened, causing more uncertainty amongst the Australian solar PV industry. But 100% Renewable Energy, a community initiated campaign which aims to build community and political support for renewables, is fighting back by launching a petition. Aiming to collect 2,000 signatures 100% Renewables plans to write to the Minister for Climate Change and Energy Efficiency, Greg Combet, to ask him to reverse the decision to cut the solar rebate early. To date more than 1,500 people have signed the petition.
In other news it's been revealed that despite leading the way in global solar photovoltaic panel installations, Australia is still undeveloped in its potential. In 2011 Australia installed more solar panels than any other country, however Australia's Climate Commission has published a report which reveals its renewable energy potential is still under-utilised. According to The Critical Decade: Queensland climate impacts and opportunities report last year the country's investment in clean green energy reached $4.9 billion last year, the majority of which were attributed to solar PV projects. And Queensland, the second largest state, is leading the way for the rest of Australia when it comes to solar PV popularity. Installations have doubled in less than two years, and to date around 200,000 Queenslanders have solar panels installed. From 2009 to 2011 $2.7 billion was invested in renewable energy, largely small-scale solar installations.
By July 2012 the number of Australian businesses and domestic dwellings that have installed solar panels was almost 754,000.