Canberra to become Australia's solar capital
It's the capital of Australia but soon enough Canberra will also be known as the solar capital following the completion of what is set to be the country's largest solar farm.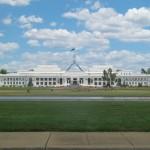 Work is set to begin on the project next year and Spanish solar developer Fotowatio Renewable Ventures (FRV) has just been awarded the coveted contract to construct the 20MW facility. FRV, who were the lowest bidders in the reverse auction, is one of the world's leading solar photovoltaic operators and has extensive experience when it comes to developing and operating large scale solar farms of this kind.
Comprising of 83,000 solar panels and farm will be capable of producing around 37,000 mega-watt hours annually, which is enough to provide power for around 4,500 homes. The project is set to begin construction next year and should be finished by 2014, subject to planning and  environmental approval.
Commenting on the project, Simon Corbell, Environmental Minister for the Australian Capital Territory (ACT) said: "This is about making Canberra the solar capital of Australia, it's about making the shift to renewables at a very cheap price, with a great saving in terms of greenhouse gas emissions and jobs and economic activity in our city."
The Royalla Solar Farm – which will be built on 50 hectares of privately leased farmland just south of Canberra -will easily overshadow Western Australia's plans to build a 10MW solar park near Perth. The project will be supported by the state's feed-in tariff scheme and could help Australia's capital become carbon neutral by 2060. Over a 20 year period it's estimated that the project will cut carbon emissions by something in the region of 560,000 tonnes.
The ACT Government has been an active promoter of the benefits of solar power generation in recent years. This will be the state's first industrial scale project and the site has been chosen specifically because it will have a minimal almost non-existent environmental impact.
On hearing the announcement, the Australian Solar Council said it was "a landmark day for Big Solar in Australia".
"Australia's clean energy future has arrived in Canberra…Solar is increasingly taking on coal-fired power on price," commented Chief Executive John Grimes, adding the announcement by the ACT Government "is a window into Australia's solar future."