Carbon free electricity part of the attraction at Perth Zoo
In an effort to become more sustainable and help lower energy bills, zoological parks worldwide are turning to solar PV technology as a means of generating their own green energy.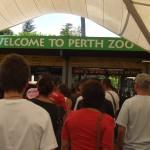 Yes solar-powered zoos are popping up everywhere. Aside from the obvious environmental and financial rewards, zoos are in a prime position to champion the benefits of solar energy to the thousands upon thousands of visitors who flock to these attractions every year.
Zoos are high energy consumers and therefore energy conservation is a high priority. Installing renewable energy technologies such as solar panels and heat pumps are one measure that can be put in place to reduce the environmental impact of their high energy consumption. Installing a solar PV system, for example, can go a long way towards reducing both carbon emissions and energy bills.
Keen to promote the benefits of energy conservation zoos are becoming quite the hub for dispersing knowledge about renewable energy. Take Perth Zoo in Western Australia for example. Western Australia is the sunniest state in Australia, which makes it a prime location to harness the sun's energy for renewable energy. The popular tourist attraction has just completed a large scale solar PV project, cementing its status as the city's largest solar PV installation.
As reported by The Australian, the 146.5kW array stretches across a large part of the centrepiece of the zoo – a steel-framed pergola which also doubles as a bus shelter – and features just over 450 solar panels. The latest installation is the icing on the cake for the zoo's $2.7 million clean energy project which began last year and saw 300 solar panels installed on a total of eight buildings including the elephant barn, retail shop and reptile house.
With a grand total of 755 panels, the zoo's total solar capacity now stands at 237kW and was aided by joint funding from the federal and state governments as part of the $94 million Solar Cities scheme. All of the energy produced will be used on site; the solar system should be capable of providing about one third of the zoo's total energy needs – around 370,000 kWh – helping Perth Zoo to achieve savings in the region of $100,000 a year.
"Perth Zoo, with more than 600,000 visitors annually, is a great place for the State with the most sunshine to be showcasing solar solutions to the many who will have an interest in sustainability," commented the Sustainable Energy Association's chief adviser, Professor Ray Wills.
Perth joins a long list of zoos investing in solar power including zoos in Cincinnati, Miami and Newquay Zoo in Cornwall. Last December Bristol Zoo also installed a 184 solar panel system.