£300 Government Grant Available For Solar Thermal
The Government has today launched the first phase of its Renewable Heat Incentive which means from 1 August, households will be eligible for a £300 grant towards the cost of installing solar-water-heating.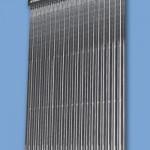 The
Premium Payment is a one-off payment which is designed to encourage homeowners to invest in renewable heating technologies by helping to assist with the cost when it comes to purchasing a renewable heating system.
From next month, around £15 million will be made available to householders who install the technology from 1 August 2011, with grants of £300 being allotted for up to a maximum of £1,250 for anyone installing ground and air source heating pumps.
The grants will be made available in the form of vouchers and with up to 25,000 installations of renewable heating technology eligible for the one-off payment, the grants will be available on a first come first serve basis.