2012 a record breaking year for solar in Germany
Last year was something of a record-breaking year for solar power in Germany. As Solar Guide reported last July 5% of the country's electricity needs are now being met by solar photovoltaic panels.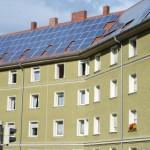 With such an impressive year behind them 2013 looks set to be another good year for the German solar industry. The Federal Solar Industry has reported that 1.3 million solar PV systems have been installed to date, most of which are privately owned and produced an estimated 28 billion kilowatt hours of solar electricity for around 8 million households last year.
Looking ahead to 2013 the country's Solar Industry Association – which acts as an intermediary between the country's 800 strong members and public and political sectors – is predicting an increase in the uptake of battery-based home energy storage systems which will help to reduce reliance on the mains grid.
By 2020 solar energy should account for at least a 10% share of the country's energy mix according to the Federal Solar Industry Association, rising to a minimum of 20% by 2030.
"Germany is now reaping the fruits of its efforts in solar technology. Their share of the power supply has quadrupled in just three years," said Solar Industry Association Managing Director Carsten Koering who added that system prices had halved at the same time.
In 2012 Germany was very much the driving force of the global renewable energy revolution and the country looks set to continue its love affair with solar energy in 2013.