UK Solar Industry May Expand Following Tariff Verdict
Last week the Supreme Court rejected the government's appeal against the decision of the High Court not to allow a revised deadline for Feed-in Tariff's (FiTS).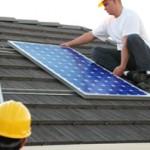 The verdict effectively ends all the legal shenanigans that have plagued the solar industry for months and helps to restore clarity and positivity to an industry that at one point was predicting the loss of some 27,000 jobs.
A bright future lies ahead, particularly with the added encouragement from the Renewables Obligation Certification Scheme (ROCS). Many companies are beginning to plan large projects as there is no limit to size under ROCS providing the energy generated is under 5 MW. Some within the industry are even predicting the appearance of large solar farms such as those seen on the European mainland.
Some of these, particularly in the south of England, could be up to 40 MW. Meanwhile a number of firms, including REC Solar, Canadian Solar and Q-Cells believe that if components prices continue to fall as predicted and conventional energy sources from fossil fuels become more expensive then ground mounted solar will become increasingly cost-effective. REC Solar especially is hoping to construct a ground mounted array of approximately 60 MW which will effectively double its existing capacity.
Another encouraging sign is that with the constant appearance of solar PV in the news recently, people throughout the UK are now actively discussing the subject. The appearance of panels on an ever increasing number of roofs has also stimulated a debate on energy in general. In a number of towns and cities across the country, people who have already installed renewable tech are inviting others into their homes to have a look.
Many of these 'Superhomes Tours' have been organised by community groups such as the Transition Towns Network and they are also being publicised at major events such as the recent Ecobuild exhibition in London. Not only has this stimulated interest in solar, it is also helping to publicise other technology and the various government schemes such as the Renewable Heat Incentive (RHI) and the Green Deal.
John Gaffney of Llandeilo, Carmarthenshire, who recently organised a Superhomes tour said: "Many of the homes we have seen this weekend who have solar photovoltaic panels installed still think it is worth the investment even with the reduced tariff."
One of the homes his tour visited had solar PV installed alongside solar heating panels and a ground source heat pump.
The Green Deal is the government's bid to encourage people to improve their home insulation and energy efficiency. It is due to be launched in October and the government has recently stated that it will be a 'managed' scheme with various pieces of legislation introduced in stages.
In order to help installers the government is also scrapping red tape and appointing a new Green Deal Ombudsman to oversee projects.