Time Is Of the Essence For Solar Installers Applying For MCS Accreditation
Solar installers are being warned to apply for accreditation under the Microgeneration Certification Scheme (MCS), or risk losing out on a predicted surge in solar PV sales.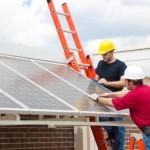 With the Government set to make cuts to its feed-in-tariff (Fit) rates next year, solar PV installations are likely to rise, as people rush to make the most of Government subsidies.
But in order to be eligible for the feed-in tariff scheme, solar pv systems must be installed by an installer who has achieved MCS accreditation. Consequently, in a burgeoning solar market, consumers will look to products and installers that bear the MCS mark.
However, given that it can take up to six months to complete the necessary MCS training, time is running out for installers to achieve the accreditation before a change in the levels of financial incentives.
"Currently the feed-in tariff has a set rate of money paid back to consumers, guaranteed for the next 24 years. However, this will be reduced each year – starting in April 2012," Joe Martin from the Green Energy Training Centre in Merseyside explained.
"Therefore installers looking to move into the solar market should get their MCS accreditation now or risk losing out on the expected surge in solar PV sales as the April deadline looms."
Currently the Government pays 43.3p for every kilowatt hour of electricity generated, but from April that figure could drop by around 7%, although that is just a speculative rate. The solar industry is anticipating an influx of consumers who want to get the maximum rate on their solar panels. Therefore, if solar installers want to make the most of the increase in demand, time is definitely of the essence for them to achieve MCS accreditation.