Taj Mahal set to embrace solar
It's known as one of the Seven Wonders of the (man made) World and according to reports India's iconic Taj Mahal is set to embrace the benefits of renewable energy by turning to solar electricity.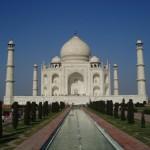 Proposals have been put forward which would see a solar plant built near to the imposing white marble mausoleum in Agra, Uttar Pradesh which would be capable of delivering a continuous supply of solar power to the popular tourist attraction and heritage monument. Under the proposed plans the Taj Mahal, the Taj Nature Walk and Shilpagram would all be supplied with electricity from the solar plant.
Power losses are an all too frequent occurrence in India, thanks to an extremely unreliable power supply service. Back in July several million people were subjected to a blackout which lasted for two days. The Department of Tourism is keen to embrace solar electricity to address the problem which blights the country. The cost of the installation will reportedly be around Rs 17 lakh (£19,580) and will financed by the Taj Heritage Fund.
India's Ministry of New and Renewable Energy has established a scheme  which will see historical monuments and other buildings of national and international importance embrace solar and other renewable energy projects.