SSE trials new energy storage system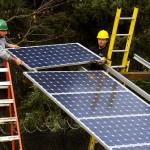 The Scottish company SSE is trying out a new energy storage system as part of its 'zero carbon homes' project in Slough. The company's aim is to see if developing electricity storage systems could be cheaper than building new transmission lines.
Ultimately every renewable energy company wants to be able to integrate their technologies directly into the national grid and the SSE trial is being conducted with that exact aim in mind.
Three electricity storage units based on lithium-ion batteries and manufactured by S&C Electric are being tested as part of the project which is being funded by Ofgem with revenue coming from the Low Carbon Network Fund. Various green technologies including solar panels, water recycling systems and super insulation are included in the trial. It is hoped that the lithium-ion batteries will enable the solar power generated by the solar PV panels to be used as and when required while at the same enabling the system to integrate with the national grid through S&C's Pure Wave Community Energy Storage System.
The trial is essentially a pilot study aimed at trying to discover whether energy storage will be cheaper than using transmission cables which can be disruptive to local communities and are expensive. SSE also wants to find out whether energy storage can create greater flexibility in the grid.
The results of the study should start to come through during the first quarter of 2013.