Solar Thermal Best Green Heating Technology
According to Ethical Consumer magazine, solar hot water heating systems are the best solution for households looking to green technologies to reduce their carbon emissions.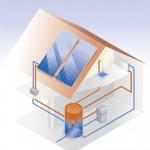 In the latest issue of its buyers' guide, the publication compares the benefits of solar hot water heating, ground source heat pumps and biomass boilers. According to the magazine's research, while biomass boilers are capable of providing the largest carbon savings, they are one of the most expensive renewable heating technologies, costing around £11,000. Biomass boilers can end up costing £40 a year more to run than a typical condensing gas boiler.
The publication found that solar hot water systems are the cheapest renewable technology to install, costing around £4,800 for a typical system. Compared to a typical condensing gas boiler, solar thermal systems can help homeowners to save up to £60 a year on their energy bills. These systems also save a modest amount in terms of carbon emissions.
"As the cheapest and easiest technology to install, if households are looking to buy a renewable-heating system in our view the best option would be to choose a solar hot water system," said Ethical Consumer magazine's editor Rob Harrison.
The Government's Premium Payment scheme – the first phase of the Renewable Heating Incentive (RHI) – will see homeowners interested in installing solar water heating eligible for a £300 grant towards the initial cost of the renewable heating technology.