Solar firm practising what it preaches
In a move designed to encourage consumer faith in the very product it produces, a solar installer is practising what it preaches by installing a solar PV system at its head office in Burnley.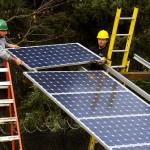 With the installation of 243 solar panels, Solarlec is now able to show customers first hand how solar PV systems work and by seeing the system in action will have a clearer picture of their benefits. Three domestic sized systems – all under 4kWp – have been fitted to their offices alongside a larger commercial-sized system which adorns their warehouse premises. While the domestic systems feature between 12 -20 panels, the larger commercial array boasts 195 panels.
Solarlec's systems comprised of panels manufactured by LG, Sun Power and Phono Solar; all three brands are part of the company's extensive product range of panels. Meters in the company showroom, which are linked up to the systems, provide both domestic and commercial customers with information as to how the panels work and the amount of energy produced by the different brands and system sizes.
Speaking to Renewable Energy Installer company director Ged Rowbottom said that it had always been their intention to install their own solar PV panels as a demonstration tool for customers keen to know more about solar electricity generation.
"By taking a look at the meters and our online portal, customers can gain a really clear perspective on how solar panels work and how much they could potentially save and earn in their own home - we invite anyone considering solar panels to come to this office and view the systems in action," he added.