Solar companies demand compensation from the government
A number of solar PV companies have demanded compensation from the Department of Energy and Climate Change (DECC) to cover losses incurred as a result of government cuts to Feed-in Tariffs (FiTS) from December last year.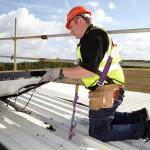 Legal firm Prospect Law has issued DECC with a 'letter before claim' requesting £2.2 million in damages for the affected solar PV companies. The lawyers state that the cuts in 2011, which set off a legal challenge by the industry that was ultimately won, resulted in considerable damage to the industry with a large and rapid drop in consumer confidence, reductions in orders, sales and profit margins and the loss of large contracts including 'free solar' schemes.
"Unfortunately, the losses incurred as a result of the feed-in tariff cuts are very real" said Nick Keighley, the founding director of Solarlec PV Solutions. "Solarlec has had an incredibly tough eight months, making redundancies and cutting costs wherever possible. We are keeping our business moving, but the reality is that we suffered substantial damage. Only this week DECC revealed solar as the UK's most wanted renewable energy source, 83% of the public calling for more. Today we're respectfully asking that the department acknowledges its unlawful behaviour and rectifies the damage caused to the industry. We can then put this behind us and get moving to create the solar future the public wants."
Two other companies have chosen to remain anonymous but the letter sent to DECC states that the compensation claims have been meticulously researched using forensic accounting in order to accurately estimate the losses incurred.
"The 2008 Energy Act and the feed-in tariff effectively provide a set of rules for delivering the UK's clean energy future" said a spokesman from Prospect Law. "The way in which DECC administered this positive framework for solar PV created a "legitimate expectation" under which both the public and industry could operate. But the premature and unlawful cuts, announced by the Minister on October 31 last year, ignored the Government's own policy framework. By casting aside the rules under which the solar industry operated, the Government caused major financial losses and materially harmed the confidence of both consumers and the industry."
DECC has confirmed receipt of the letter and is said to be considering its content but Prospect Law has given the department two weeks to respond. The solar companies themselves are hoping that no further action is necessary.