Sonnen Batterie Eco Cost, Specs and Reviews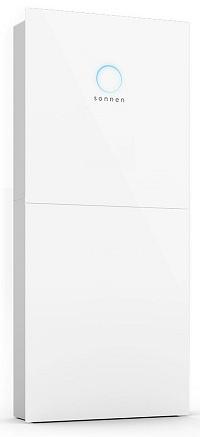 The sonnenBatterie eco can be incorporated into a home solar panel system to store the energy you're generating but not using for a time when you need it. By storing this free or cheaper energy you can significantly reduce the amount of higher cost electricity that you use and lower your home's carbon footprint. It's a Lithium-ion phosphate storage system that utilises intelligent software to help you both monitor your energy consumption and reduce your reliance on the National Grid.
If you'd like to speak to a solar installer in your area who can provide tailored advice and a free installation quote for a solar battery, complete our enquiry form now and we'll put you in touch with up to 3 MCS certified (or equivalent) companies today.
What is the sonnenBatterie eco?
The sonnenBatterie a multi-storage system which means you can purchase multiple units in steps of 2kWh. This not only means that there will be a capacity to suit most homes or businesses, but also that you can expand the system gradually if your energy demands increase over time.
It can store energy generated by wind generators, heat pumps and fuel cells meaning that if you choose to embrace other renewable energy sources the sonnenBatterie is the perfect choice.
sonnenBatterie eco: The Specification
Continuous Output:
(AC) 3,000 W - 8,000 W
Usable Capacity:
4 kWh – 16 kWh (in 2 kWh steps)
Dimensions (W/H/D):
4 – 8 kWh: 26/51/14 in
10 – 16 kWh: 26/71/14 in
Maximum efficiency of inverter:
93%
Ambient temperatures:
41 - 113° F
Enclosure Rating:
NEMA 12
AC Specifications:
240 VAC / split phase / 60 Hz
Guaranteed Lifetime:
10,000 cycles or 10 years
Listed and recognized components:
Designed for UL 9540 compliance. Certified to UL 1741 (inverter), UL 1973 (batteries), and FCC part 15 Class B compliant
---
Get FREE Solar Battery Quotes
---
Why consider a sonnenBatterie eco?
Intelligent software: The smart technology within the sonnenBatterie eco means it will detect when there is surplus energy and store it automatically and help you manage energy usage more effectively.
Durable and safe: The battery is guaranteed to last for 10,000 cycles or 10 years which makes it a worthwhile investment. The Lithium-ion phosphate technology is known for high chemical stability and long life. In addition, all the components included in the system are UL listed ensuring the highest levels of safety.
Single, complete unit: The sonnenBatterie eco is a single, compact box with all the components and software included within. This makes installation a breeze as it's ready to connect.
Control Energy Use with sonnen App: By downloading the sonnen App you can take full advantage of the smart technology within your the system. It enables you to track and control the energy use of your home from any location.
Cost: The starting cost of a sonnenBatterie eco is lower than that of the nearest competitor, Tesla, at around £4,500 compared to Tesla's £5,400.
Are you considering a sonnenBatterie eco system for your home?
Send us an enquiry to day and we can put you in touch with a highly recommended professional in your area who can advise you and provide you with their most competitive quote for the job.
Get FREE solar battery quotes now
About Sonnen
As company mission statements go, they don't come much bolder than sonnen's: to "emancipate our world from the dependence on fossil fuels and anonymous energy corporations." For this company, it's not enough to talk about reducing energy bills or lowering carbon emissions; they are attempting to drive the world towards "economical and political freedom".
How do they intend to achieve this? Through their solar energy storage system: the sonnenBatterie eco. Their technology is German engineered but manufactured in the US and is exported to countries all over the world, including the UK.
In April 2017 the company was listed in the Financial Times as one of Europe's fastest growing companies. As of March 2017, is the first battery manufacturer on the European market to receive the label of "Top Brand PV Storage" from EuPD Research who found that Germany, Austria, Switzerland and the UK "rely on sonnen products to a particularly high degree".
Whether it's a Sonnen battery you're interested in or you've another manufacturer in mind the best way to save money on the installation is to compare quotes. You can complete our quick and simple enquiry form today and we'll find you free quotes from up to 3 accredited solar installers in your area.
---
Get FREE Solar Battery Quotes
---