Moixa Batteries - Specifications, Benefits and Costs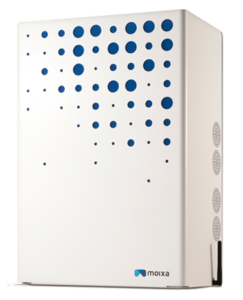 The Moixa Smart Battery will store energy generated by your solar pv panels instead of it being sent back to the grid. That way it can power your home in the evening when the sun goes down.
If you'd like to speak to a solar installer in your area who can provide tailored advice and a free installation quote for a solar battery, complete our enquiry form now and we'll put you in touch with up to 3 MCS certified (or equivalent) companies today.
Why Buy a Moixa Solar Battery?
Moixa batteries are simple to install so you'll be up and running within a day
You can keep an eye on your energy generation and usage as it's visible in real-time via the Moixa Dashboard
Installing a Moixa solar battery could potentially save you £600 a year in energy bills
Your carbon footprint could be reduced by as much as 1.2 tonnes of CO2 each year

Moixa Smart Battery Specifications
Capacity
2-3kWh
Battery Technology
Lithium Ion Phosphate – LiFePO4
Standard Warranty
10 years (Lifetime with GridShare*)
Weight
2kWh – 40kg / 3kWh – 49kg
Operating Temperature
5 – 40 Degrees Celsius
Dimensions in mm (HxWxD)
505mm x 345mm x 245mm
Mounting
Wall Mounted
Cost (RRP)
£2,950 – £3,450

 

---

 
Get Free Solar Battery Quotes:        Get quotes and compare prices.
 

---

*What's Gridshare?

In the table above we highlighted that you can get a lifetime warranty on your Moixa Solar Battery with Gridshare, but what is it?

In the Gridshare scheme, Moixa trade excess power stored in the Smart Batteries of homeowners with the National Grid, and share of the profits. If you join the Gridshare Cashback Scheme then you'll be entitled to receive £50 a year for the first 3 years. From this point, you can join the profit share, where Moixa will pay out 50% of the profits generated specifically by your Smart Battery.

About Moixa

Moixa are a leading smart battery company in the UK, with 1,500 homes currently enjoying the benefits of having a Moixa Smart Battery installed. That means a combined nine million hours of energy have been provided by Moixa batteries nationwide.

Their track record in the UK home battery market is unrivalled, as they've amassed over 10 years of research and development, strong international patents and proven technology. Backed by a team that has decades of experience in energy innovation, Moixa have delivered the majority of UK innovation projects in energy storage and local energy system innovation.

Along with smart energy sharing, Moixa help individual homeowners, councils and large property companies manage and reduce their electricity bills. By leveraging advanced technologies as well as AI and machine learning, Moixa batteries adapt to how you use energy in your home. Not only are Moixa delivering innovative technology to homes nationwide but they also provide insight to UK government departments.

Whether it's a Moixa solar battery you're interested in or you've another manufacturer in mind the best way to save money on the installation is to compare quotes. You can complete our quick and simple enquiry form today and we'll find you free quotes from up to 3 accredited solar installers in your area who can advise you and provide you with their most competitive quote for the job.

 

---

 
Get Free Solar Battery Quotes:        Get quotes and compare prices.
 

---