Mercedes-Benz Energy Solar Battery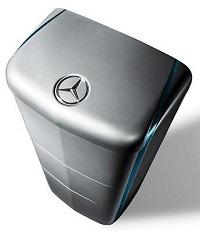 Mercedes-Benz need no introduction as a car manufacturer, but you may not be so familiar with the renewable energy side of their business. Having ventured into the electric and hybrid vehicles market it was a natural next step to produce an energy storage system to support their cars and a home energy storage system was not far behind.
Please note: this storage battery has now been discontinued. You can find a full list of alternatives in our guide to solar batteries.
Mercedes-Benz Energy produce stationary battery storage systems using lithium-ion technology. The batteries are made in Germany by Daimler's subsidiary, ACCUMOTIVE.
The aim, as with all solar energy storage systems, is to enable you to "take control of your own power and optimise your home energy consumption". By storing the energy generated by your solar PV system you can put it work when the sun isn't shining. This means less reliance on the National Grid and a higher proportion of renewable energy used in your day to day life.
Product: Mercedes-Benz Battery
The Mercedes-Benz storage system relies on Lithium-ion technology and is available in 8 sizes. There's no denying that it has the trademark sleek and contemporary design the company are renowned for including the iconic logo, so it can be a real aesthetic addition to your home.
You can choose from a freestanding battery or a wall-mounted model. The latest version of the battery has improved capacity of 120 % compared to the first generation. It is compatible with the SMA Sunny Island inverter: 3.0?M/4.4?M/6.0?H/8.0?H.
Battery Size (kWh)
Dimensions (Stand-mounted, WxHxD, cm)
Weight (kg)
Usable Energy Capacity (kWh)
System Efficiency
Anticipated Residual Capacity after 10 years
Warranty
Anticipated Number of Cycles
2.5
47x42x29
37
2.3
97% round cycle
>80%
10 year current value replacement warranty
8.000 (80 % DoD/0,5 C)
5
47x67x29
69
4.6
7.5
47x92x29
101
6.9
10
47x117x29
133
9.2
12.5
144x117x29
170
11.5
15
144x117x29
202
13.8
17.5
144x117x29
234
15.6
20
144x117x29
266
18
Why consider Mercedes-Benz Energy?
Sleek, Modular Design: The battery is available in 8 capacities and can be scaled up to meet increasing energy demands between 2.5-20 kWh. Also, being made in Germany to the exacting standard associated with the company, there's no denying the brand's reputation for quality.
Long-lasting Efficiency: Lithium-ion technology is one of the longest-lasting on the market. The system offers efficiency of 97% and will retain at least 80% of its capacity after 10 years.
Noiseless and reliable operation: Mercedes-Benz claim a "noiseless" operation and include a 10 year warranty which should give you real peace of mind about your investment.

Interested in Mercedes-Benz Energy storage for your home?

Get in touch with and we will connect you with a highly recommended professional in your area who can advise you on the best solar solution for your home.