Prince Charles goes solar
Prince Charles has been given permission to install 32 solar panels on the roof of his 180-year-old home in London.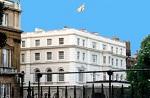 132 square feet of the roof of Clarence House is set to be covered with solar panels with the Prince of Wales investing £30,000 of his own money into the project. Charles, a long-standing supporter of promoting a sustainable lifestyle and tackling global warming, was granted planning permission to install the panels on the grade listed building at the end of August.
The installation has been on the cards for over six months with the move receiving some negative feedback from those who thought the large-scale panel array would hamper the appearance of the highly-regarded 19th Century building.
However, it has been confirmed that the panels will be situated on the south-east facing roof which will mean they are not visible from the ground.
The solar PV panels will produce around 4,000 killowatt hours of electricity a year (based on average daylight hours) meaning it will be a number of years before the Prince can recoup the initial installation costs through the Feed-in Tariff grant scheme.
It's not the first energy efficient measure to be installed into the home of the Prince of Wales, Duchess of Cornwall and Princes William and Harry. More efficient boilers have been added and home-waste water has been recycled to be used to water the plants in the garden of the central London property to make the home carbon neutral for the past three years.
The installation was given the go ahead by Westminster Council on August 25.
It's not the first time Prince Charles has used Clarence House to showcase the benefits of going green - earlier this year he opened the home he and Camilla moved into in 2003 following a £6m renovation for an eco-garden party.
To work out how much you could benefit from the Feed-in Tariff by installing solar panels, use our Solar PV Feed-in Tariff Calculator.