Pitfalls of Incorrectly Installed Solar Panels Exposed
The NHBC Foundation is warning homeowners to be aware of the perils of incorrectly installed roof-mounted solar panels.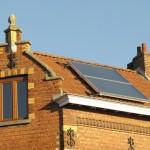 According to the National House Building Council, homes could be subjected to damage ranging from leaking roofs to structural damage if roof mounted microgeneration systems such as solar panels and micro-wind turbines are not installed correctly.
The NHBC has released a guide aimed at homeowners, house builders and renewables installers which offers guidance when it comes to installing solar panels and micro-wind turbines effectively and safely. The detailed guide highlights the correct methods for fixing renewable technologies, taking into account location and roof type, so they can withstand the UK's ever changing weather.
When it comes to installing micro-wind turbines and solar PV and solar thermal systems, potential savings to households is a driving factor for those seeking to invest in the technology. However, in the absence of specific UK or European standards, there remains  confusion over the most appropriate installation methods which, in some cases, can lead to failures and significant damage to homes.
Information in the new guide includes fixing options for fastening solar panels to roofs, the appropriate positioning of micro-wind turbines and effective methods for strengthening roof structures.
"Recent Government initiatives, such as the feed-in tariffs and the Renewable Heat Incentive, are encouraging consumers to embrace renewable technology," said NHBC Foundation spokesman Graham Perrior.
"However, while there is widespread enthusiasm for these initiatives, there is a gap in knowledge about the best way to install renewable technology on a domestic scale."
Mr Perrior added that because the use of renewable technology is advanced across parts of Europe compared to the UK, there is a tendency to follow the example of our European counterparts. Which in itself is problematic, because the UK's weather system requires a specific approach, given our potential for periods of prolonged rainfall, coupled with high winds.