Panasonic beats record for most efficient solar PV module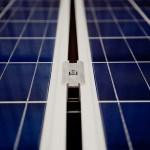 On 2 March Panasonic announced that they have created a solar module with a conversion efficiency of 23.8% at research level.
This new development by Panasonic beats the previous record holder, American company SunPower who announced just last month that they had achieved 22.8% module efficiency.
This breakthrough means that Panasonic now holds the records for highest efficiency of both silicon cell and module efficiency. The Japanese electronics giant was able to achieve this breakthrough using its unique silicon heterojunction structure technology.
The announcement was made at the PV Expo trade show in Tokyo, Japan, which showcases the latest solar technologies, materials and modules from across the world. Panasonic's claim of 23.8%
conversion efficiency has been verified by Japan's National Institute of Advanced Industrial Science and Technology (AIST).
In a press release for this impressive solar development, the company has stated that they will continue to 'pursue technology development of its photovoltaic Module HIT, aimed at realizing higher efficiency, higher reliability and lower costs, and will work towards mass production.'
With the solar market in the UK currently in a period of change due to changes in the Feed-in Tariff for 2016, the development of increasingly efficient solar panels around the globe is welcome news.