New Stylish Solar Roof Tiles for UK Homes
Move over solar panels, there's a new player in town, in the shape of a soon-to-be launched new solar tile product from one of the UK's leading solar PV companies, Solarcentury.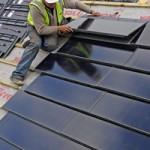 With more than three million homes in the country set to potentially benefit from the launch of the new solar tiles, the product will be officially revealed later this month at sustainable building show Ecobuild.
The new British designed solar PV tile – also known as a solar shingle – will be targeted at UK homes whose roofs feature the traditional type of small format plain roof tiles. The Solarcentury C21e electric plain tile will enable more homeowners to benefit from solar electricity, and the new product will sit alongside Solarcentury's current established range of solar tiles, the C21e Tile and the C21e Slate which were launched in 2005 and 2008 respectively.
Suitable for re-roofing projects as well as new builds, pre-engineered systems up to 4kWp in size are available, although larger roofs which require systems in excess of 4kWp can be designed if appropriate.
Given their cost in comparison, solar panels remain the most popular type of solar PV system, although despite their green energy credentials continue to be knocked for being unattractive and, in the opinion of many homeowners, something of an eyesore. Aesthetically speaking solar roof tiles are stylish and a more attractive product to look at but as yet are not as cost-effective as solar panels. They are simply integrated into the roof system; replacing conventional tiles they are attached to the roof battens and sit flush with the roof.
"Solarcentury's  C21e solar electric roof tiles have proved very popular with homeowners and house builders," said Solarcentury's product manager, Martin White.
"Our aim is to make solar simple to specify, install and own; with our new C21e plain tile, we can help even more people go solar every day."
---
---