New solar glazing production plant for 2013
Oxford Photovoltaics is seeking investment for its solar glass which the firm is producing for the Building Integrated Photovoltaic (BIPV) market.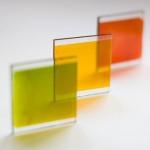 Earlier this year the new company hit the headlines with a new type of glass which would effectively turn skyscrapers into self-generating solar PV power stations. Since then representatives of the company have accompanied a UK cleantech mission to San Franciso which was organised by the UK government Technology Strategy Board (TSB) and which enabled the company to meet potential investors. Oxford PV needs around £3 million to help start its pilot production line which it hopes will be operational by the end of 2013. Some of the money is already being made available by Oxford PV's existing investors.
The new glass is derived from float glass, a type of mass produced flat glass, that has been pre-cut and pre-treated. The glass is then treated with a substrate using various techniques including screen printing. Layers are built up to form an energy harvesting material made of dye sensitized solar cell materials (DSSC). The aim is to produce glazing 'modules' with 8% conversion efficiency and a long lifetime due to the natural properties of the glass. The process for extracting the current from the solar glazing is already being developed.
When ready, the new glass will be available in a wide range of colours to suit particular aesthetic considerations among architects and construction industry suppliers.