BT launches new production tools to improve silicon PV conversion efficiency
BT Imaging Pty Ltd (BTi) recently announced the launch of a suite of tools to help improve the efficiency of silicon PV conversion, including a number of next generation inspection tools that will enable PV manufacturers to achieve the best possible efficiency.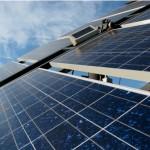 Among the suite of tools is the iLS-W2 inspection tool which will be used for on-the-fly photoluminescence (PL) inspection of electrical wafers. Other tools will help mono manufacturers to accurately identify yield detraction factors and reduce cell efficiency spread.
BTi regards itself as one of the world's leading suppliers of luminescence-based inspection tools and quality control systems for the solar PV industry. The company's aim is enable wafer makers and fully integrated PV manufacturers to inspect every wafer they produce with regard to its electrical performance before they make it into a solar cell. This will help to secure premium pricing for wafers and cells which will be increasingly important in a market with tight margins where customers are tending to focus on higher cell efficiency.
"Our customers are focusing on higher cell efficiency as a key differentiator" said Ian Maxwell, Chief Executive Officer of BT Imaging. "In designing this suite of tools we had three important considerations. The tools all needed to be production-ready, retrofittable into existing production lines, and enable customers to reap the efficiency benefits of cast mono manufacturing. I am very pleased that we can offer our customers the capabilities they seek."
Continued reductions in subsidies around the world combined with supply and demand and competition dynamics have helped to reduce profit margins in the solar power market and so cell efficiency has increasingly become important among customers seeking to differentiate among the myriad of different solar panels available. Cell makers are therefore setting higher specifications for wafers and that means demonstrating and understanding electrical wafer quality is a vital factor right across the supply chain.