New 50 kW solar array for Mitsubishi
Mitsubishi Motors UK have installed a total of 196 solar panels supplied by Mitsubishi Electric on the roof of the company's offices in Cirencester, Gloucestershire, where the array is expected to generate 40,050 kWh of energy, saving 17.2 tonnes of carbon emissions per year.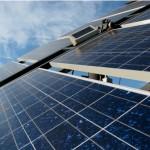 The array features a state-of-the-art energy generation and performance monitoring system, which enables monitoring via the internet. A permanent real-time display has been fitted in the main reception area.
"The decision to install Solar PV was a straightforward one" said Lance Bradley, the managing director of Mitsubishi Motors UK. "As well as offering good strong, sound business benefits, this move complements our growing reputation of leading the way in environmental technologies. Whilst we know that the Government feed-in tariff is set to be reduced in August, the increasing efficiency of panels, falling costs of the hardware and increasing energy costs are likely to still make the case to other businesses compelling, and we hope they will follow our lead."
The company has already made major efforts to green its motoring division. "Many of our vehicles now come with Auto Stop & Go technology" adds Bradley, "we were the first to the global market with a full production pure-electric vehicle, the i-MiEV; and are very proud to be launching one of the world's first plug-in hybrids in 2013." The installation will enable the company to boast of zero emission production for cars such as the i-MiEV.
The installation was carried out by Gloucestershire renewable energy company Glevum Energy, whose chairman, Gary Jones, said: "We are very proud of our close working relationship with Mitsubishi Motors in the UK and so were delighted when we were chosen to install this solar PV system."