MCS registration deadline set for October 22
If you didn't know already the domestic side of the Renewable Heat Incentive (RHI) is to launch next spring, and in preparation the Department of Energy and Climate Change has established a cut off date for owners of solar water heating to register their systems.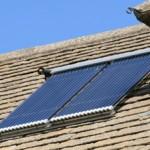 Time is running out because come October 22 you won't be able to register your solar thermal system any longer. Owners of the renewable heat technology whose systems have been installed on or after July 15 2009, but for whatever reason haven't been registered on the Microgeneration Certification Scheme database will not be eligible to make an application for RHI payments.
When you had your solar hot water system installed you should have received a certificate from the installer, which features a unique installation number. This is your MSC installer certificate and you will need it if you intend to apply for the RHI. If you've misplaced it or you cannot recall ever receiving one, get in touch with the person or company who fitted your system. As an MCS accredited installer they should be able to provide you with this document.
The deadline doesn't just apply to solar water heating; other renewable heating products including biomass boilers and ground source and air source heat pumps face the same time limit.
You have until 4pm on Tuesday October 22 to register your solar thermal system. Under the RHI scheme owners of this particular technology will receive at least 19.2p/kWh for producing their own renewable heating.