Marks & Spencer Solar in Green Deal Talks with Government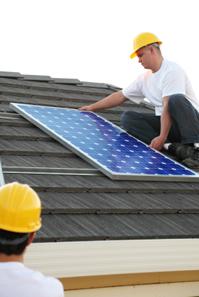 Earlier this year, Marks & Spencer, one of Britain's leading high street retailers, announced that it would provide solar pv panels for domestic consumers.
After recently admitting that it is in talks with the UK Government over participation in the coalition's Green Deal, the firm is set to delve deeper into Britain's green energy business.
According to media reports, Marks & Spencer plans not only to sell and install solar panels, but it also hopes to provide customers with double glazing in the near future. The move towards more environmentally friendly products and services is one that works well with the Marks & Spencer ethos. The company was recently named as the 2010 Green Business of the Year at the Green Business Awards ceremony in Grosvenor House, London.
Run by Management Today, the Green Business Awards rewarded Marks & Spencer for its £200 million Plan A, which was launched in January 2007 with the aim of making Marks & Spencer a carbon neutral company by 2012. Putting its successful range of underwear and ready meals to one side, Marks & Spencer clearly believes that it can turn a profit in the green energy sector, which has also attracted interest from British Gas and B&Q.
Parliament is expected to review legislation for enacting provisions of the Green Deal as early as next month. Under the scheme, high street retailers such as Marks & Spencer would be encouraged to sell and fit various types of green energy products, including solar panels and double glazing. The scheme, which could be in force by the third quarter of 2012, would also enable high street retailers to provide loft insulation and other such energy saving measures.
Marks & Spencer has refused to comment further on its talks with the Government. Meanwhile, Ian Cheshire, the Chief Executive Officer of Kingfisher, B&Q's parent company, said: "The Coalition Government's flagship 'Green Deal' scheme offers great potential to revolutionise the home efficiency market. This will go a long way towards helping the UK to meet its ambitious climate change targets. We look forward to working together to help people save money and cut carbon in their homes".