Introducing Heliomotion Solar Tracking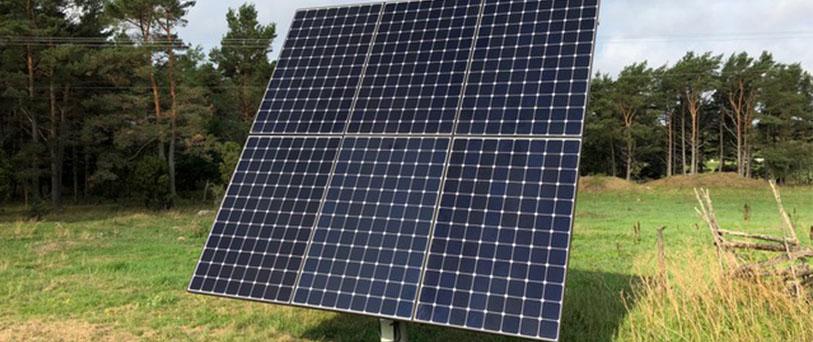 Some homeowners in the UK want to embrace the benefits of solar technology but can't (or don't want to) install solar panels on their roofs. Even for those that are intending to install solar panels on the roof, doing so means the panels are static, i.e. only able to generate energy at certain times of the day when the sun is in the right position in the sky.

At Solar Guide we're always interested in new technology which could remove barriers to solar power enabling the UK to move closer to a solar future. If your roof is north facing, particularly shaded or has dormers which restrict the useable installation space, Heliomotion could be the answer.
What is Heliomotion?
Heliomotion is an award-winning, innovative solar tracking system, i.e. solar panels which move to follow the sunlight. The panels aren't fixed to a roof but to a column which stands in the ground outside your home. By following the sun from sunrise to sunset a Heliomotion delivers 30-60% more energy per year than a roof-based fixed photovoltaic (PV) panel system with the same dimensions. This means you should see a much quicker return on your investment in terms of energy savings.
As Heliomotion is not installed on a roof it is particularly well suited to homes where static PV isn't viable, either because of the architecture or position of the roof or in listed buildings with planning restrictions. The Heliomotion PV can be used alongside on-grid power or in off-grid (battery-based) PV systems. The systems can be used singly or in quantity to form a community micro-grid.
The technology was developed by the Finnish company HelioZenit AB. Production, global sales and marketing are now handled by Bee Solar Technology Ltd, based in the U.K. HelioZenit is still involved in the engineering and development side of the business.
How Does it Work?
The solar tracker uses GPS to calculate the sun's location. It can determine the time, latitude and longitude to detect the sun's position and turn the PV panels to face it. The highly precise tracking maximises the energy production throughout the day following the sun in two axis with only one motor, rotating 180 degrees along the horizon and 15-70 degrees vertically.
It can be powered from any constant 24 VDC power source, either using the included 24 VDC power adapter or by connecting it to a 24V battery bank.

How Does it Compare to Roof Solar Panels?
Unlike roof-based solar which is restricted in terms of energy generation by which way the roof is facing, the Heliomotion tracks the sun to maximise the panels' exposure to sunlight at all times of the day.
According to Heliomotion, this solar tracking technology increases annual energy generation by 30-60% per year when compared with a stationary panel facing south with an ideal angle.
Bee Solar Tech say: "The energy increase depends on the latitude where the installation is located, from +25% at the northern equinox to +60% in Scandinavia. The extra energy is generated in the morning and in the evening which matches the consumption curve of a typical household much more efficiently than a static system which peaks at solar noon - often when everyone is out of the house."
Some homeowners may be concerned about the structure of the Heliomotion, i.e. how does it stand up to high winds? The structure is engineered to withstand wind speeds up to 70 miles per hour. If you expect stronger winds, you attach the extension rod to enable the panels to be turned to the horizontal which minimises the effects of wind.
---
---
Does Heliomotion Work with a Solar Battery?
By storing surplus energy generated by the Heliomotion you can keep it for use at another time or to charge an electric vehicle getting the owner one-step closer to off grid living. Heliomotion can be combined with solar batteries and something called a solar station which is also available from HelioZenit Ab.
The solar station is a battery charger, inverter and utility power relay. When it detects that there is insufficient solar or battery power the solar station will automatically switch so you use the energy from the National Grid.
When you buy a Heliomotion you have the choice to buy just the unit itself (tracker,
framework and panels) or to buy the complete package including inverter, cables, breaker
box etc. The company sell packages for on grid installations as well as off grid installations complete with batteries and charger/inverter solar stations.
Bee Solar Tech say: "Our recommendation is to use the grid-tied system if utility power is available, and to use the battery-tied system for off-grid installations without access to utility power. The main reason for this is that the grid-tied system is simpler to install and allows you to automatically utilise 100% of your produced electricity. Furthermore, the grid tied system is cheaper."
How Easy is the Installation?
A potentially big attraction for some homeowners is that it doesn't necessarily need to be installed by a professional.
There are two mounting options: ground anchors or a concrete pad. Both options allow the foundation column to be securely attached using steel flanges and bolts, so there is no need for scaffolding.
Ground anchors are the quickest and easiest option. An entire set of 4 can be installed in under an hour.  A concrete pad involves hole digging, concrete pouring and a week to cure. 
The Heliomotion has been designed to be easy to assemble so a competent DIY'er can take care of the majority of the work and avoid labour costs. As it's ground based this should also make servicing and cleaning of the panels much simpler.
Your Heliomotion and everything needed to complete installation is delivered on a pallet with an illustrated guide. It can be finished in a few hours, but the last stage of the installation – the wiring/commissioning – requires a certified electrician. Heliomotion recommend installing the system within 100 meters of where the power will be used.
What About Warranty and Durability?
The PV panels are covered by a 10 year guarantee on materials and workmanship and a power guarantee of a 95% output for the first 5 years and up to 87% for up to 25 years afterwards.
The tracker element of the system is designed to last as long as the panels (typically 25-40 years) and includes a 3 year warranty to provide free replacement parts.
How Much Does Heliomotion PV Cost?
There are four sizes of Heliomotion available. PV-2, PV-3, PV-4 and PV-6.  An estimated price for a PV-6, six-panel system, is currently just under £4,000 excluding delivery, VAT, panels and inverter.  
Interested in Heliomotion for Your Home?
Heliomotion recently won the "Build IT Best Home Technology Award" and Melissa Briggs, the CEO, won the "PEA Award for Solar" in 2020. 
For more information or to get a quote for a Heliomotion system and ground anchors, please visit the website at www.beesolartech.co.uk.
If you're looking for traditional roof-based solar panels, solar thermal collectors or a solar battery, it's really easy to get free quotes right here on Solar Guide. By filling in our simple form, we can put you in touch with up to 4 MCS certified (or equivalent) solar installers who will provide you with no obligation quotes so you can compare prices. Click below to get started!
---
---