InstaGen leading by example with solar installation
More and more solar companies are adding credibility to their businesses and helping to increase consumer confidence in the products they sell by installing their own solar PV systems.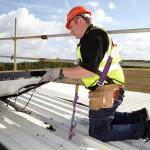 Berkshire based InstaGen are one of those companies. Part of the InstaGroup – who have over thirty years of experience when it comes to installing thermal and acoustic insulation products – the company decided to put their money where their mouths were, so to speak, by installing their own solar panels.
InstaGen joins a growing number of solar and renewable energy installers who are leading by example and generating their own clean, green energy.
Producing their own energy and cutting their carbon footprint was the main driving force behind the installation, as Ed Andrews, Renewables Development Co-ordinator at InstaGroup explains:
"We wanted to show energy consumers just how easy it is to become less
reliant on the large energy companies that dominate the market. So it made perfect sense to install our own solar PV system.
"Thanks to a large visual display which we have installed in the reception area, both staff and visitors are enable to see first hand exactly how the solar panels perform. Not just in terms of how much carbon the panels are helping us to save, but also how much money the system has earned from the feed-in tariff scheme too."
The system – which took just over two weeks to fit despite installers having to battle some particularly poor summer weather –  comprises of 46 Romag 235W solar modules. The panels sit proudly on the company's large southerly facing warehouse roof.
InstaGen has estimated that the 11kWp system will generate around 8,200kWh of electricity annually.