Frequently Asked Questions About Solar Panels
This article was updated on 9th January 2019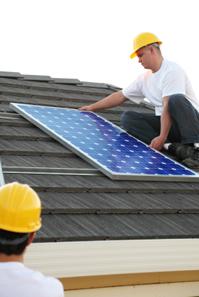 As alternative sources of energy go, there's no denying that solar seems to be far and away the most favoured of all renewable sources of energy. More homeowners than ever before are choosing to generate their own solar electricity.
To date over 500,000 households in the UK have solar panels. But despite its popularity – or perhaps even because of it – solar remains muddled by myths and clouded by confusion. A recent survey* has indicated that more than one in five homeowners would like solar panels fitted to their homes, but cost and the cloudy UK climate remain two of the biggest concerns.
The fact is solar panels are cheaper than they've ever been to install. And the UK climate is perfectly suited to solar energy – we're even out performing the likes of Australia in terms of solar capacity.
It's time to set the record straight. From how to reap the rewards of the Government's solar feed-in tariffs to how well the technology works in a cloudy climate, we thought it was time to address some of the most commonly asked questions about solar photovoltaic panels.
What is solar electricity?
Solar electricity is electricity that's generated through the use of solar photovoltaic (PV) technology. Solar PV panels are used to capture the sun's free and clean renewable energy, turning it into electricity.
How does a solar PV system work?
Solar PV systems feature an array of cells which contain a solar PV material that can convert radiation from the sun into direct current electricity. The electricity that is generated can be used to provide power for lighting and electrical equipment around the home.
It's not very sunny in the UK. Will solar panels still work when it's cloudy?
Absolutely. It's actually radiation from the sun – and not temperature and heat – that enables solar photovoltaic panels to generate electricity. Solar panels in hot sunny countries are bound to gather more energy, but don't be fooled into thinking that they won't work well in the UK. They don't need constant direct sunlight to work and can still generate electricity when the weather is cloudy. Don't forget either that Germany is currently the world leader in solar energy generation – not exactly a country well known for its abundance of sun!
How does solar benefit the environment?
Well, for starters it's a renewable source of energy, so unlike coal it won't run out. Plus solar energy is environmentally friendly because it doesn't generate green house gases. Renewable energy technologies will help you reduce your carbon footprint, meaning you'll personally be doing your bit for the environment.
What's the difference between a solar PV system and a solar hot water system?
Solar PV panels are used to generate electricity, whereas a solar hot water system – also known as solar thermal – is used to provide hot water in the home.
How much does it cost to install solar panels?
The price of solar panels has come down dramatically since the feed-in tariff (Fit) was introduced in April 2010. Solar panel prices are now around 70% cheaper than they were in 2010. Today prices for a 2kWp system start at £3,800 and from £5,900 for a 4kWp solar panel system.
Get free quotes from solar PV professionals in your area. Source three quotes to ensure you get the best possible price.
Aside from helping the environment how can I benefit from solar panel installation
Well, there's the reductions you are going to make on your fuel bills for starters, because generating your own electricity will help reduced those costs considerably.
For example, a 2.8 kWp system should be able to generate around 35% of an average household's annual electricity needs. Then of course there's the added financial incentive of the feed-in tariff scheme.
What's the feed-in tariff?
It's a scheme the Government introduced to pay you for generating your own electricity. Originally set at a rate of 43.3p per kilowatt hour of electricity generated, this has been gradually reduced and currently the tariff stands at 3.47p. Calculate potential payback with our solar PV calculator; it's a useful tool and a great place to start if you're thinking of installing solar panels.
Why has the Government decided to slash solar subsidies?
Because they can! The Government believes such cuts are necessary in order to keep the feed-in tariff budget under control. The Energy Minister at that time, Greg Barker viewed the changes as a way of putting the solar industry on a "steadier and sustainable growth path." When the feed-in tariff was introduced in 2010 the subsidy scheme was paying solar electricity adopters 43.3p/kwh. Currently (October 2018) the feed-in tariff pays out 3.47p/kWh. However, even though feed-in tariff payments have been reduced, solar panels are so much cheaper to install that it pretty much balances itself out.
Is it still worth me investing in solar?
There's no doubt about it; solar PV panels are the most popular type of renewable energy with homeowners. Over 500,000 UK homes already have solar PV panels and the numbers are continuing to grow. Solar panel costs have dropped dramatically, so there's really never been a better time to invest. The benefits too are impossible to ignore: lower energy bills, a reduction in carbon emissions, get paid for generating your own electricity and potentially increase the value of your home.
Are there any grants available to help fund the installation?
There are no grants to help fund the installation of solar PV. If you cannot afford the upfront capital investment, some solar companies have been running what's known as free solar scheme. Meaning they will fit the solar panels to your house for free. But although you get to benefit from free electricity, it's the solar company who gets to reap the financial rewards of the feed-in tariff.
Also, it's worth remembering that you will be renting your roof to the solar company for 20 years. But given the recent reductions to solar subsidies, solar companies are no doubt going to be less interested in providing this service as the rewards available will no longer be as sweet.
*In a 2014 poll conducted on behalf of Ocean Finance